high-speed additive Manufacturing system for large continuous carbon fiber composite structures
THE AQUA ADVANTAGE
Manufacture parts as small as a basketball or as large as a bike frame.
Reduce human error through high-speed automation.
Simplify site and facility preparation via ambient processing.
Rapidly change materials for continuous printing.
Automate manufacturing via closed-loop temperature control and robotic systems.
Go beyond 2.5D planes and print fibers via true 3D deposition.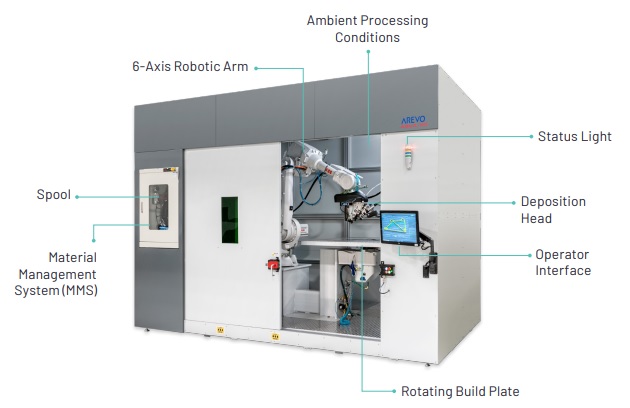 AQUA'S DEPOSITION HEAD
AQUA's deposition head is mounted on a six-axis robot that heats the incoming filament via laser and compacts the heated filament during deposition via roller.
XPLORATOR™ SOFTWARE
CONTINUOUS CARBON FIBER MANUFACTURING AUTOMATION SOFTWARE
AREVO's Xplorator™ software is the brainpower behind every step of the AQUA process, from part design to manufacturing.
ADVANTAGES
Explore and validate a design's strength before manufacturing using additive finite element analysis (AFEA).
Optimize geometry and integrate parts with continuous carbon fiber composites using generative design.
Create custom toolpaths that were previously impossible with traditional composites manufacturing.
MATERIALS
CONTINUOUS CARBON FIBER REINFORCED THERMOPLASTICS (CFRTP)
Engineered and manufactured by AREVO to interface with the AQUA System.
Currently offering :
Nylon/CF (50% FVC)
PEEK/CF (50% FVC)
ADVANTAGES
High fiber volume content (FVC) thermoplastic materials for both high temperature engineering (PEEK/CF) and consumer (Nylon/CF) applications.
Extensive material characterization data integrated with Xplorator™ software for predicting mechanical strength in printed parts.