MakerBot Method
WHAT ARE THE CHARACTERISTICS OF THE MAKERBOT METHOD?
The Method would have been designed to bridge the gap between Stratasys' expensive industrial solutions and MakerBot's small office machines. If we look more closely at its technical specifications, we see that it has a print volume of 190 x 190 x 196 mm, a printing speed of 500 mm / second and a layer resolution of 20 to 400 microns.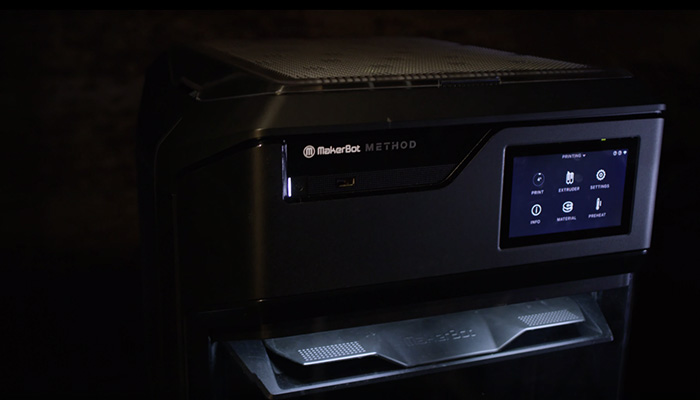 The machine has a heated chamber; the manufacturer specifies that this heat circulates actively throughout the printing. It would offer greater dimensional accuracy, better adhesion of layers and increased strength of parts. As for its double extruder, it would combine two materials or two colors. This is not the first double-extrusion model of the brand – it had already launched the Replicator 2X. Among the available filaments are PLA, PETG, MakerBot Tough and PVA. MakerBot says it will offer more materials in the coming months.
INTEGRATED SENSORS TO BETTER CONTROL PRINTING
The manufacturer explains that each extruder is equipped with sensors that can detect when the machine is out of filament but also the possible risk of jamming. He states that it is "a kind of protection for your current printing but also for your 3D printer". Note also the presence of two trays below the printing plate to keep the filament coils dry; a series of additional built-in sensors would ensure that the material is stored in an optimal environment, preventing any problems with too much moisture. Finally, a full-color 5-inch touch screen and WiFi connectivity facilitate the printing process.
MAKERBOT REDEFINED ACCESSIBLE 3D PRINTING AND ESTABLISHED AS A PIONEER ON THE MARKET
RELIABILITY + INDUSTRIAL PRECISION
Respects the design dimensions
Dimension accuracy up to ± 0.2 mm
FROM CAD FILE TO THE FASTEST PRINT ROOM
Up to 2x faster than desktop 3D printers 2
Printing without adjustments
MAXIMUM INNOVATION + MINIMUM INVESTMENT
Nearly ⅓ ownership in the first year of an industrial 3D printer without the need for a technician
Accelerate the design process and reduce risk, save time and money