The Makerbot Réplicator+
THE MAKERBOT REPLICATOR + IS BUILT TO BE HIGHLY RELIABLE.
The MakerBot + 3D printer prints 30% faster than its predecessor and offers 25% more volume.
For greater reliability and increased accuracy, she has a gantry rethink with a "z-step".
Ideal for professional 3D prototyping, this MakerBot Replicator + can also be suitable for teaching or for "maker space" type Fablabs.
EVEN MORE PERFORMING SOFTWARE TOOLS
It also has a USB cable, a Wi-Fi connection and a small camera to see your 3D prints in progress. The camera will allow you to be reassured about the quality of its work and the progress of printing.
The real plus for this 3D printer is that it allows the use of our laptop applications of the two most used operating systems: IOS OR ANDROID but also the Cloud.
A FLEXIBLE PRINTING TRAY WITH A GRIP INCORPORATED ON THIS NEW MAKERBOT REPLICATOR +
With the new printing surface, the prints adhere better, reducing the risk of print takeoff. Impressions are also easier to remove with the new Flex Build plate. The build plate is also factory-upgraded with the 3D Replicator + printer to be ready for use right out of the box.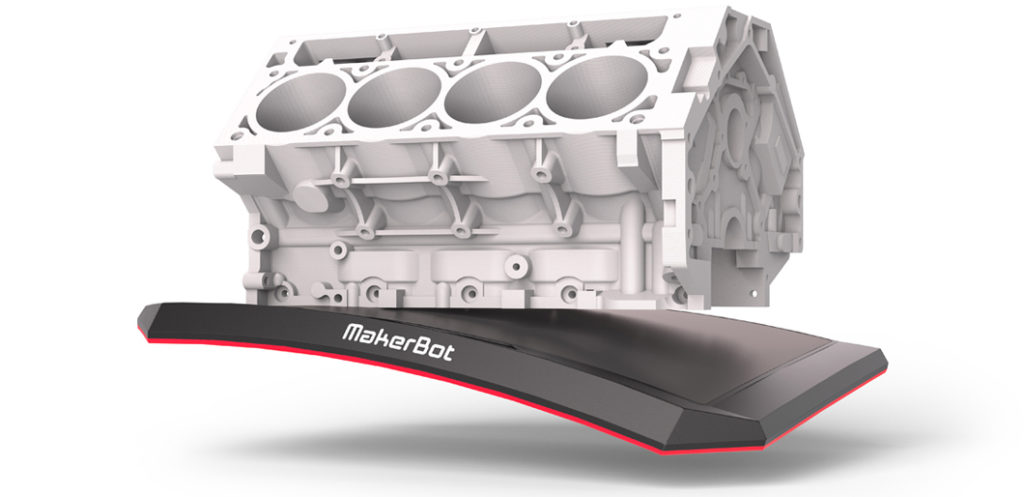 A NEW INTELLIGENT EXTRUDER WITH THE MAKERBOT +
This new extruder is a successful blend of design and hours and hours of rigorous testing, with superior results from MakerBot PLA filament + 160,000 hours of rigorous testing for this new Makerbot Replicator 3D printer extruder
DISPLAY VIA LCD DIAL