ENABLE 3D PRINTING WITH YOUR CURRENT CNC MACHINE
Meltio ENGINE is a sophisticated and powerful device that allows 3D printing of dense metal parts with CNC machines. Adaptable to almost all CNC systems, this technology allows machining steps directly after printing. The printhead can in fact retract automatically when not in use to make room for machining steps.
The process allows parts to be printed from wire and powder in the same machine, using patented multilaser technology. It is able to automatically use wire, metal powder or both simultaneously without changing the nozzle.
Unique technology
Meltio Engine can produce complex metallic components from both wire and powder feedstock. The ability to produce parts from wire makes operation and material handling very clean, as well as ensuring 100% material efficiency. Being able to process powder fills the gap to conventional LMD and brings the ability to mix alloys on the fly.
GREAT RESULTS AND VERSATILITY
The specially designed deposition nozzle facilitates optimized injection of argon into the weld pool, dramatically reducing oxidation. MELTIO ENGINE not only enables 3D printing of dense metal parts, but also an all-in-one additive manufacturing solution for part repair, laser coating, laser welding, laser cutting, laser texturing and polishing.
EXCELLENT USER INTERFACE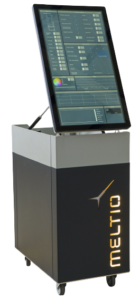 MELTIO ENGINE is equipped with a powerful on-board computer with 17 ″ touchscreen and a feature-rich graphical interface. It is equipped with state-of-the-art customizable software to facilitate model slicing and access to process parameters. MELTIO ENGINE can also be controlled via a tablet or computer via a local wireless network or via an Ethernet connection.
OPEN MATERIALS PLATFORM
Stainless steel : Excellent mechanical and corrosion resistance.
Mild Steel : Affordable, this ductile material is easy to machine and weld.
Carbon steel : Strong impact resistance and hardness maintained at high temperature.
Titanium : Very good weight / mechanical strength ratio and corrosion resistant.
Inconel : Versatile, highly resistant to heat and corrosion.
Copper : Under development
ACCESSORIES
Filament Preheat : Preheats the programmable wire feed to increase the deposition rate.
Double Filament : Allows you to print two filaments sequentially during the same print with quick thread change.
Powder feeder : Option to adapt the wire printing system to a powder printing machine.
External spool storage : used to supply the machine with wire from an external source. Larger coils can then be used.