PROFETA – IE 150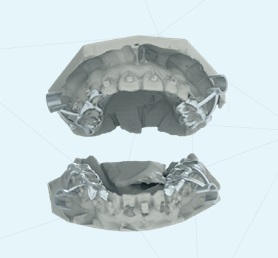 The IE 150 has a volume of construction: Ø 150 mm, H = 80 mm and is dedicated to the production of parts for the dental sector, crowns and stellites in cobalt chrome (Note that the machine can be improved in IE150 PLUS by adding a glove box system allowing the handling of reactive powder like Titanium). Its high productivity allows the most optimal return on investment possible.
The machine is delivered with already certified powder parameters and particle sizes for easy handling. The machine is open and the manufacturing parameters used can however be completely modified. In addition, the machine is equipped with specific data preparation software. The user is free to use the powder of his choice.
Software
Part preparation software for manufacturing is supplied with the machine and has been developed by the manufacturer. It has been specially developed for the machine and for dental applications to ensure unparalleled print quality.
It allows to carry out all the preproduction steps from the set up and the choice of the orientation of the parts on the stage of manufacture until the creation of the machine file:
Repair of STL files (normal error, hole, overlap, …)
Positioning (nesting translation and automatic placement, orientation and orientation optimization)
Part identification label automatically generated on media
Optimization of media generation (manual or automatic generation)
slicing
Choice and modification of manufacturing parameters and generation of the machine file)
The software is compatible with the main dental CAD software on the market including EXOCAD and 3 SHAPE.