special solution for processing larger workpieces

Special machines for processing of battery trays
The machine is designed for mass production of workpieces with dimensions 2000 x 1500 mm and more. With two vertical spindles and five independent axes, it enables faster cycle times.
The machine is equipped with a horizontal clamping table mounted on a longitudinal slide – Y-axis with linear drive. The X-axis is mounted on a fixed gantry with two vertical milling axes Z1 and Z2.
On each of the two Z-axes, a special milling spindle is mounted with two tool holders mounted on the vertical rotary axis B and the horizontal axis A.
The milling spindles for face milling and end milling are mounted at 180 degrees on the special spindle and are positioned by rotating the A-axis for the milling operation when in use.
4/5-axis processing of the workpiece with 2-spindles
Dual Spindle simultaneous both sides processing of the workpiece
Fixed portal with two cross axis with two vertical milling axis
Design with/-out tool exchange
Workpiece dimensions from cca. 1700 x 2500 mm
Robot un-/loading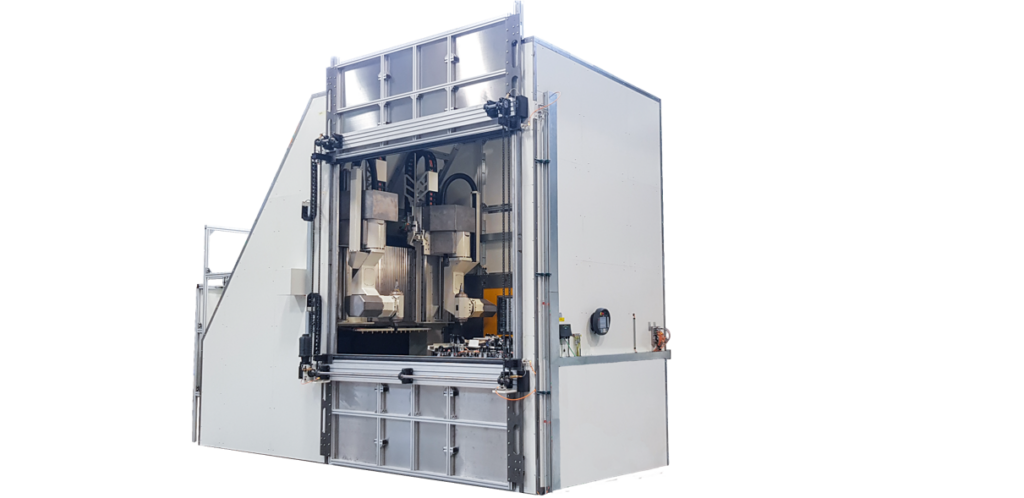 Special machines for processing of battery tubs
Special version of the machining centre type Linear for the processing of battery tubs
Single Spindle 5-axis machining centre
Workpiece (Battery tub) dimensions: 1100 x 800 mm
Spindle motor with tool magazine
Trommel table with NC planets (1-4 planets)
Linear drive for high-speed processing
X and Z-axis are driven by the linear motor