MILLING – TURNING – GRINDING
Machining Area
With the TAURUS Gemini you invest in a machine concept that flexibly combines several machine types in just one system.
Roughing operations are possible with a power of up to 63 kW at up to 1,500 Nm. For finishing operations, spindle speeds of up to 20,000 rpm and high machine dynamics are available.
All this without compromising on stability, accuracy and availability.
Overview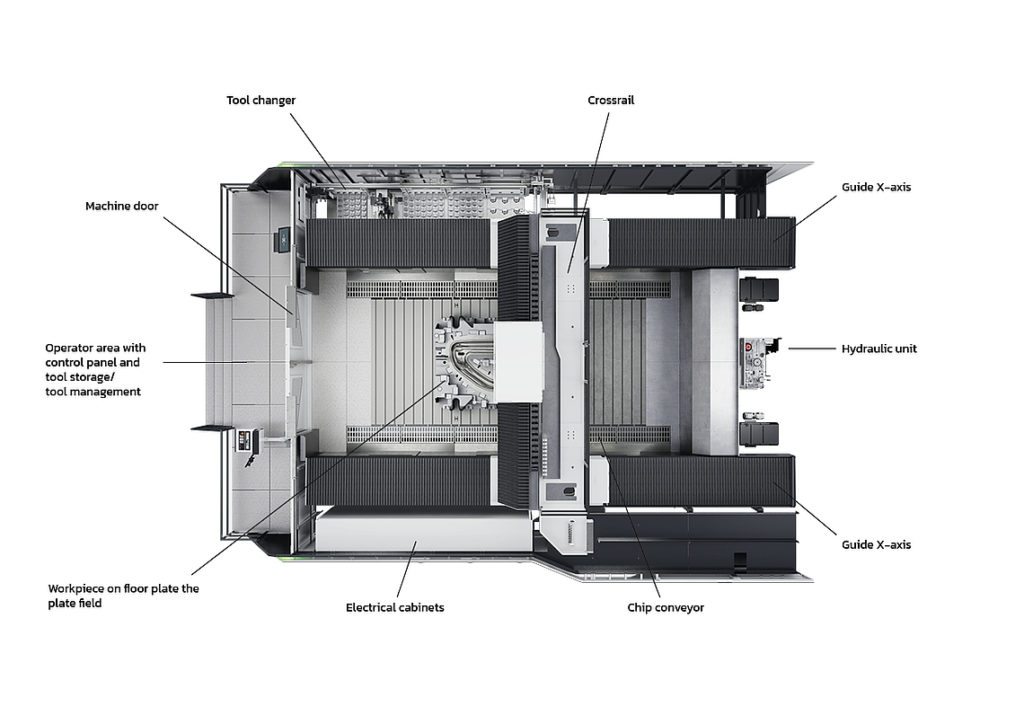 The tool changer is specially adapted to your requirements.
It is not only extremely compact, but also expandable due to its modular design and can be used flexibly.
Due to its special arrangement, there is no contamination of the tool cones by chips or cooling lubricant.
With 6 spindle unit storage spaces, the TAURUS Gemini is perfectly equipped for your machining tasks. In combination with up to 120 tools, it covers all your needs.
Compact and protected from contamination, the spindle units can be changed fully automatically within a very short time.
The worldwide proven hydrostatic guideways from WALDRICH COBURG are also used in the dynamic concept of the TAURUS Gemini.
Almost free from friction and wear, with the best damping characteristics and enormous rigidity, you achieve the best machining results over the entire life of the machine.
Our unique guideway system is known worldwide for its durability and stability.
You have the choice between the Siemens 840 D sl or Heidenhain TNC 640 controls, giving you a future oriented setup.
With the UMATI interface you can connect your machine to many other systems.
Mindsphere from Siemens, Connected Machining from Heidenhain or our InPro help you improve your processes and manage your machinery.
The TAURUS Gemini handles all common standards of modern manufacturing.