A wide range of machine models and sizes is available, guaranteeing productive and full-automatic beveling of dished ends from only 25mm (1") up to 7.000mm (275").
Linsinger longtime tool expertise ensures low tool cost and economic machining even of stainless steel and high alloyed materials.
Check out the optional features of all machines, such as automatic measuring, stacking of finished pieces, drilling of holes or even milling of ball tank segments and press stamps.
Orbit : automatic boiler end bevelling machines
DIAMETER 25 – 1200 MM
features
Fully automatic machining cycle
Designed for highest possible output
Automatic and precise alignment of boiler ends
Quick tool and diameter change
Precise and fast welded seam preparation
Various kinds of profiles available (V/X/Y/J…)
Optional drilling function available
Optional measuring station for quality assurance and documentation
AVAILABLE MODELS
AVAILABLE OPTIONS
Automatic measuring of finished boiler ends
Processing of stainless steel and other high alloyed materials
Automatic marking of finished boiler ends
Automatic stacking and turning of finished parts
DIAMETER 600 – 2400 MM
FEATURES
Fully automatic machining cycle
High bevelling performance
Automatic machine setup for every diameter
Automatic and precise alignment of boiler ends
Precise and fast welded seam preparation
Various kinds of profiles available (V/X/Y/J…)
Automatic tool changer function available
Optional measuring station for quality assurance and documentation
AVAILABLE OPTIONS
Processing of stainless steel and other high alloyed materials
Automatic marking of finished boiler ends
Automatic stacking and turning of finished parts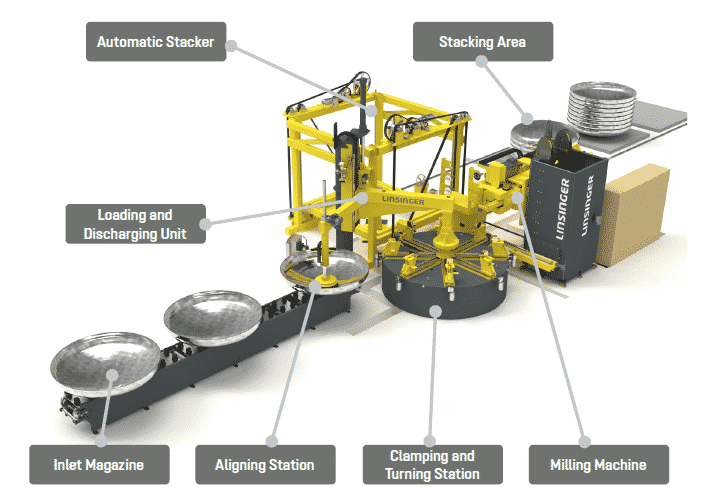 DIAMETER 1800 – 7000 MM
FEATURES
Fully automatic machining cycle
High bevelling performance
Easy machine setup for every diameter
Automatic and precise alignment of boiler ends
Precise and fast welded seam preparation
Various kinds of profiles available (V/X/Y/J…)
Automatic tool changer function available
APPLICABLE FOR
AVAILABLE OPTIONS
Milling of press tools for vessel heads
Machining of centric or concentric holes by drilling or milling
Threading and bevelling of holes
Bevelling of holes
Plane milling of flanges or surfaces after welding
Milling of spherical tank segments